Our parent company Saison Electronics Ltd is a Japanese wire harness manufacturer with over 25 years of experience in custom made wire harness assembly production. We manufacture wire harness products for various industries and clients. Our commitment to quality, competitive pricing, engineering and logistics has positioned us as a preferred source of wiring harness for many globally recognized brand name corporations. Our production capacity and set-up can accommodate very large order quantities as well as smaller highly customized wire harness and cable assemblies. Working with Connective LLC as an intermediary allows our North American clients direct and close communications with Saison.
By choosing Connective LLC you are guaranteed to the following benefits:
An immediate response to your inquiries.
On time order delivery and reduction of your inventory.
Expedient turnaround in development and submission of prototype wire harness.
Fulfillment of smaller orders of custom developed wire harness assembly products.
Short lead times.
Even better engineering support.
Faster quote response.
Wire Harness Manufacturer Certification
We are fully certified (UL, ISO 9001, 14001 and TS 16949 certification) and equipped as a wire harness manufacturer who ships products for various applications and industries globally.  For details on our certification as well as compliance and safety documentation please visit wire harness manufacturer's certification page.
Reference:
ISO 9001 (International Standard Organization) provides an internationally recognized standard for a Quality Management System which applies to any organization in all types of industries.
ISO 14001 specifies requirements for an Environmental Management System (EMS) and represents a core set of standards used by organizations for designing and implementing an effective environmental management system.
ISO/TS 16949 is an internationally recognized Quality Management System specification designed specifically for the Automotive Industry. It contains all of the requirements of ISO 9001 plus several additions specifically for the Automotive Industry.
Wire Harness Manufacturing Specifics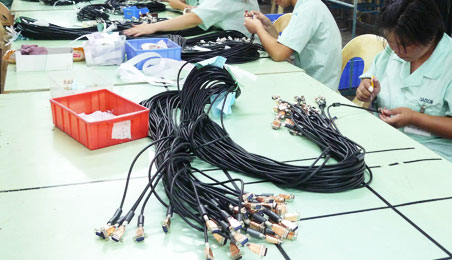 As a wire harness manufacturer with an impeccable track record, we understand the importance of pricing, quality and in-time delivery. Therefore, our production, engineering, quality control, logistics, procurement, administrative and sales departments are tightly integrated together. Maintaining open and clear communication lines allows us to continuously fulfill the high expectations of our clients.
Our outsourcing of raw materials and components comes only from certified or client-specified sources. We also have an internal wire production line which helps our clients to gain additional savings.
Having an in-house team of one of the most qualified engineers in the industry allows us to develop your custom wire harness prototypes quickly and successfully submit them to you.  Upon your request, our engineering department can work closely with you to help you in the development of such prototypes.
Wire Harness Manufacturing Capacity and Quality
We have over 700 employees and occupy over 190,000ft2 of modern manufacturing facilities. Our wire harness manufacturing process has achieved one of the highest efficiency standards in the industry due to modern equipment, ongoing training and the latest technologies.  Modern wire harness manufacturing planning combines both manual and automated production processes to achieve superior quality and cost efficiency. An expert wire harness manufacturer understands that fully automated production lines will not deliver consistent quality of products due to the nature of wire harness manufacturing. Although in theory this is possible, the reality is that to maintain the highest quality standards in wire harness assembly through full automation would be cost prohibitive.  Therefore we pay extra attention to our workers training and integrity of our production operations.
Through the combination of well-tuned machinery and skilled manual labor we deliver consistent quality, low pricing and short lead-times.
Wire Harness Products Profile
Throughout our Company's history, we have been manufacturing wire harness for the following industries:
Automotive – automotive wire harnesses and cables of various types for different brand names.
Computer cables and computer wire harnesses – this includes internal and external molded and assembled types of cables and wire harnesses such as USB cables, hard drive cables, ribbon cables, monitor cables, split cables, adapters, etc.
Networking cables – CAT5, CAT5e and CAT6.
Consumer electronics wire harnesses and cables – domestic appliances, LCD and plasma TVs, gaming consoles, sound systems, cell phones, electronic equipment, power tools, audio and visual, iPod interfaces, etc.
Industrial wire harness assemblies – specialty cables and wire harnesses for medical equipment, industrial equipment, harsh environment resistant cable and wire harness assemblies, sensor wiring, hybrid wire harness assemblies and others.
Quality Control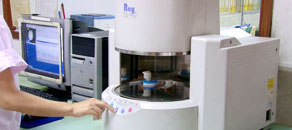 Each wire harness assembly piece delivered to our clients goes through vigorous testing whether it is a complex hybrid cable or a simple CAT5 cable. The Quality control process employs special wire-harness testing equipment and manual inspection. You can be assured that when you get your shipment it will be exactly to your specifications and packaged according your instructions. This is our standard and we never deviate from it no matter how busy the production season may be.