Custom cable assemblie
s, which are commonly referred to as
OEM cables
, are at the core of our business. While some OEM cable manufacturers specialize in a particular type of cable assembly, we have been offering a wide range of custom cable assemblies to our clients for over 25 years.
Certified as an automotive cable assembly manufacturer, we supply automotive cables and wire harness products to car manufacturers and aftermarket part suppliers.
Our manufacturing capacity allows us to accommodate very large orders but we are also able to fulfill smaller, highly specialized cable assembly products.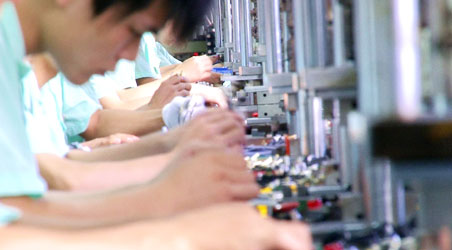 Many of our cable assemblies are used by regional and worldwide cable distribution companies. We have the capacity of customizing molding and branding of all the products we ship.
We use precision instruments and automation in cable cutting, cable stripping and crimping technologies, in combination with highly skilled manual cable assemblers, to produce products that are exact to your specifications. We use modern testing equipment, always tuned and accurate. We have a 25 year proven track record of quality of all custom cable assembly products and an impressive list of Original Equipment Manufacturers who use our products and services.
Custom Cable Assemblies Quality Control
Our cable manufacturing quality control procedures ensure exact specs and the highest accuracy in terms of dimensions, conductivity, connector assembly and material specification. Custom cable assembly products produced in our facilities assure reliability and consistency. Each unit we ship is individually inspected and approved to be shipped. We regularly perform tests and tuning of all the cable assembly testing equipment and always follow engineering specs, whether it is a soldering procedure, crimping specs or packaging. It's simple; with us, you will get more than what you have expected along with superior service and an unbeatable price.
Cable Assemblies – Engineering
Our engineering team is one of the most experienced in the cable assembly industry and we provide dedicated support to all of our clients, helping find the best materials for custom cable assemblies, assist in research and development, testing and prototyping. Many years of individual and cumulative cable assembly engineering and manufacturing experience allow us, not only, to create a perfect solution but also find cost reducing alternatives without sacrificing quality.
Our engineering support is especially helpful in complex types of custom cable assemblies where numerous factors are at play. This includes specialty design cables such as multi conductor, complex hybrid cables, cable sensor assembly or cables designed for extreme environmental conditions, such as, high pressure, exposure to moisture and extreme temperatures.
Cable design engineers are assigned to specific projects based on their expertise and can assist you in all stages of the development.
Production Capacity for Custom Cable Assembly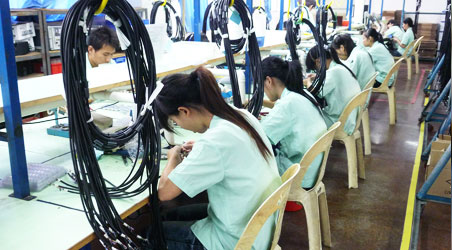 Our facilities and flexible production scheduling allows us to manufacture large quantities of custom cable assemblies in record time. With customer forecasting combined with our procurement team and production management control, we can accommodate even the shortest deadline. Our production lines are geared for all types of cable assemblies, as well as molded cable and wire harness product lines. Production capacity and efficiency have made us a preferred choice of custom cable assembly for many brand name manufacturers worldwide.