Our commitment to quality has gained us the reputation as one of the most trusted wire harness and cable manufacturers. We go beyond the standardized requirements and have developed a unique wire harness and cable assembly quality control system, which entails several stages of manual and automated testing of incoming raw materials, components and product testing in various stages of assembly. Despite the fact that our rigorous quality control procedures require extra labor resources and investment in specialized equipment, it has been the  critical point of our operations since the beginning and it has never have been overlooked.. Every piece, no matter how small, simple or inexpensive it may be, come from our manufacturing facilities fully tested and approved by your vigilant quality control team.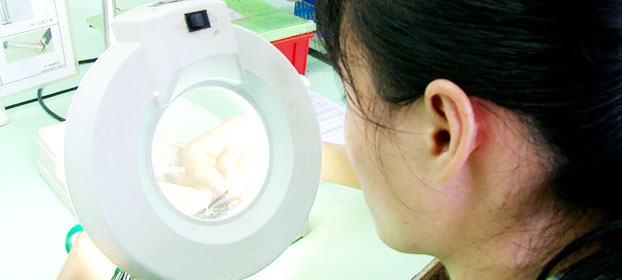 Wire Harness and OEM Cable Assembly QC Procedures
Due to the specifics of the custom cable assembly and wire harness manufacturing industry, our QC process starts by ensuring that crystal clear communication lines are established between the client and our sales and engineering teams.  We inspect technical data and blue prints and communicate with the client on the particulars of certain design aspects. In certain cases, we can advise clients on the design details as we have a vast experience in building complex custom cable and wire harness assemblies for various applications for many years. After the design is finalized a prototype is built and delivered to the client for testing and approval.
The next stage is the acquisition of raw materials and components for cable and wire harness assemblies. We use manufacturers and suppliers that have been defined by our client's Bill of Materials (BoM) or we can suggest alternative components. We only suggest alternatives which may improve product quality, durability and reliability or reduce cost without any sacrifice to quality or function. All materials that arrive at our manufacturing facilities undergo our in-coming material inspection in specially designated holding areas. They are carefully inspected and tested, using for example, our X-ray florescence spectrometer, and every detail is scrutinized no matter how trusted the manufacturing source. If no defects or contamination are detected, in-coming materials are approved and stored securely in our pre-production warehouse ready to be routed to our PMC team by the procurement department for production.
Prior to production all of the manufacturing equipments involved in the scheduled assembly are inspected, tooled, fine-tuned and tested. All the workers are briefed on assembly steps, quality control and safety procedures. Depending on the type of cable assembly we use different protocols of quality control during the production.
Once product is assembled every single piece is tested again using a series of manual and automated tests and then packaged according to the client's instructions. Prior to shipping, all boxes are inspected ensuring the correct count, packaging assembly and formation for shipping.